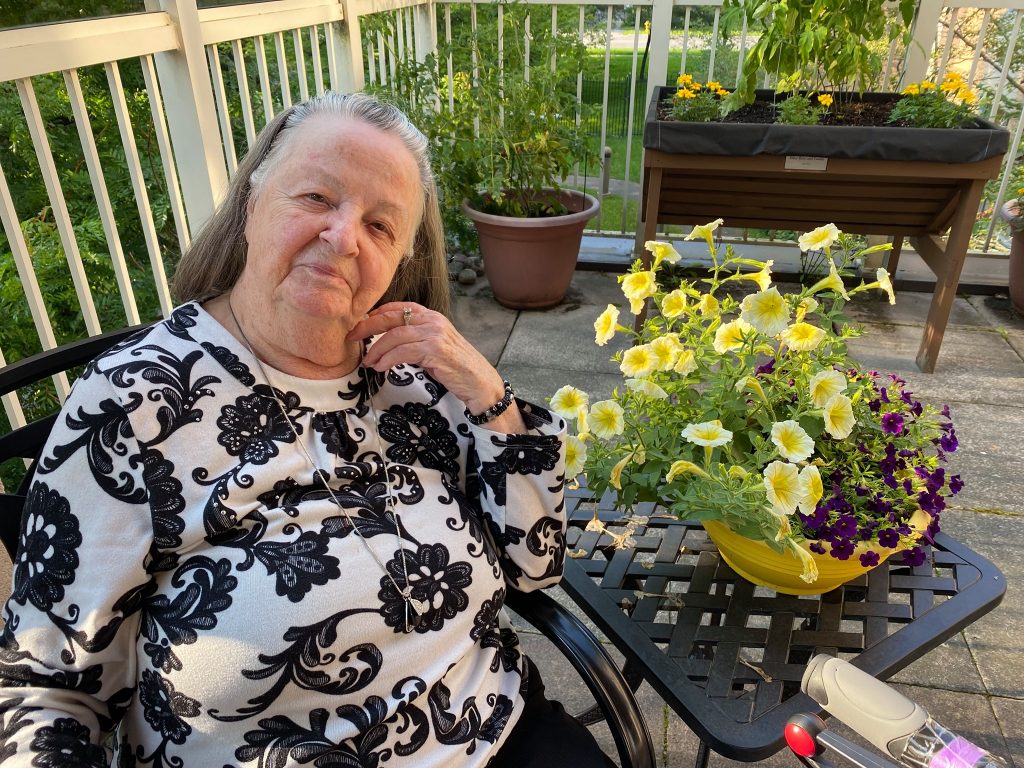 Falling into a rhythm..
It's been a while since we put our "time spent caring" into words. Time for a catch up as it's been 5 months since our last blog (apologies.)
We are here. Resident and staff and families, trying to be normal while keeping each other safe from a looming 4th wave of you-know-what. Note for readers: trying really hard not to give the enemy a name in this blog, so say that word in your head if you must. Grove Park Home's doors are open and welcoming but with a whole lot of rules imposed by Ministry Directives with a few of our own rules piled on for safe measure. We are grateful that families and visitors supported often rapid changing visiting rules that were driven by challenges with our Active Screening desk and those Ministry Directives again. Trying to figure out the difference between Essential Caregivers, General Visitors and Essential Visitors was like a game of Twister – just trying to stay on our feet without falling on our faces. Then who can come in, who needs to be tested, who has proof of the vaccine….oh wait. Testing and vaccines are a paragraph unto themselves. A little further on.
Summer was a welcome season allowing residents and families to spend time outdoors. Walks were permitted on our property and we bought and set up patio tables in normally unused spaces. Creativity 101! As the days/weeks/months passed, restrictions for visits and resident outings relaxed and we saw residents leaving for family events and outdoor dining for the first time in almost a year. TBH, we were like hovering parents, worried every minute for those we are tasked to protect. The joy on faces calmed our fears and life started to feel a bit more normal.
Staff continue to cohort as much as possible. This means that staff work on only one home area with the exception of, for example, Restorative Care staff who must visit every home area to work directly with residents. It was a few months ago that eye shields were removed from our daily PPE requirements and that brought relief to all staff. We were the last sector that allowed for the removal of this uncomfortable addition to our daily wear. So, unless a resident or resident room is in isolation, our daily PPE requirement is now just a surgical mask. This applies to all staff in all home areas, including administration and common areas. For residents, mask wearing is recommended but only on an "as tolerated" basis. Our visitors wear masks, indoors or out, at all times.
MUSIC!!!!
It's back and we are grateful. Check out our Facebook page for happy residents outside with their friends listening to live music. We'll see what happens when cold weather arrives but certainly we will find a way to bring "the sound of music" to our residents. We have also celebrated Easter and Canada Day, Mother's Day and Father's Day. We dressed up and made cookies. We celebrated every birthday with balloons and song. There was a LOT of crafting and storytelling. Bible Study went virtual with our very own Claude Cox but this turned out great as Life Enrichment staff were able to stream this on the lounge big screens for all who were interested. We even hosted an Elections Canada voting station for our residents that was very well attended. Are you curious if we still managed our beehive and tended to our vegetable garden? Of course, we did! The colony successfully wintered and we were greeted with a full hive in the early spring. Honey became available again in our dining rooms and for sale to our staff and families. The award winning (we always say that) vegetable garden produced an abundance of herbs and vegetables, and many residents were able to help water, weed, and harvest. The bounty is used in the dining rooms throughout the season. In fact, just last week we featured our own vegetables in a salad with Honey Grove Vinaigrette!
Ok, back to that other topic.
The blog post in March boasted an 80% vaccination rate for staff and 95% for residents. Today we are proud to say that 90% of staff and 97% of residents are vaccinated. Our Essential Caregivers are also rolling up their sleeves and have achieved an 84% full vaccination rate. Today our residents received a third vaccine to "boost" a reduced immunity in this vulnerable population. This is all moving in the right direction, knowing that the vaccine is our best defense and our slow climb back to normal. Also noted at the beginning of this blog post was testing and screening. With the introduction of Rapid Antigen Testing in the spring, most of us can attest to a combined (PCR and Rapid Antigen Tests) total of more than 90 tests. Such "surveillance" testing  has been paused for fully vaccinated asymptomatic staff and visitors, but with a Variant hanging around, we would not be surprised if the need for surveillance testing returns. We shall see….
Generosity continues
and we are grateful. Fundraising is an important function for our not-for-profit and charitable home; we need to raise funds to support resident care needs so that we can focus on staffing, building maintenance and such. While there was no Dragon Boat Festival this year because of (don't say that word!) we did gather a team and headed to the water to poke some fun at the missing festival. Sharing images of our event with friends, families and business partners, we managed to raise just over $20,000 which will support the purchase of lift and transfer equipment. Check out the team that made this happen:
We also received lovely and generous gifts from friends like Sally and Sandy, Mary and Judy, Jane and Lee, and Donna and Nianne and Karen and Theresa! We got new beds and a new hydro-sonic tub, new mechanical lifts and new specialty mattresses. We were able to restore a garden for a 100th birthday tribute and bought a new toaster (yes that is a BIG DEAL!) We were gifted with 6 months of Fruit of the Month for all staff and residents! If you want to support our home, without leaving "your" home, it is as easy as this click.  You will get an instant receipt and a quick and personal thank you from us. If you know a community minded person or business that would like to support a great project for great people, have them contact Linda in our Development office at 705-792-7404 or by email at lindam@groveparkhome.on.ca If you want an easy way to support the home, stop by Bradford Greenhouse Garden Gallery for your Fall Gardening Needs and mention Grove Park Home before you check out. You will help us earn valuable rebates!
Fall is settling in and last week we celebrated a Fall Fair of sorts with our residents. The "local farm" dinner mid-week included grilled steaks, roasted chicken, garden salad, rosemary (from our garden) potatoes, fresh beans, and BUTTER TARTS and berries for dessert!! All sourced locally by our very own Travis Durham and prepared by his excellent kitchen team and provided by our very own Residents' Council.
A few concluding thoughts
Be kind and patient. Difficult decisions are being made across the province, across the country, around the world. If you disagree, reach out to your politicians. Our Duty to Protect is ingrained in everything we do: protecting our residents and protecting our staff. We are still battling the unnamed villain and we are tired and anxious about the next few months. Patiently roll with changes here at Grove and at local agencies and businesses. These are challenging times with rapidly changing rules. We are truly all doing out best, walking in the shoes of our choice; shoes that might not be comfortable on you. Find joy where you can and if you cannot, please check out this video that we had the absolute privilege to produce; it reminds us that every day, in everything we do, these residents and our staff matter more than any headline.
The Team @ Grove
Note to NF – your beautiful words lift us. Thank you